Edvance360 LMS for higher education provides premium features like Learning Outcomes Management, ePortfolios, and common cartridge compliance at no additional cost. The cost-savings + celebrated customer care can make the transition from your current learning management system a great next step.
Why Edvance360 College LMS Platform?
Engage Students
Web 2.0/Collaborative Tools
College LMS offers a secure, academic social environment that incorporates Web 2.0/collaborative tools to develop 21st-century skills such as:
Communication between peers/staff/faculty
Group projects
Networking
Blogging
Wiki Development
Discussion Groups
ePortfolios
Online College Course Interaction Tools
Systematically direct the students' LMS experience using Lessons/Learning Paths with allowances for:
Divergent paths/adaptive learning
Wikis
Mobile version and apps
Course Alerts
Group Projects
Interactive curriculum plugins from third-parties using LTI (Learning Tools Interoperability)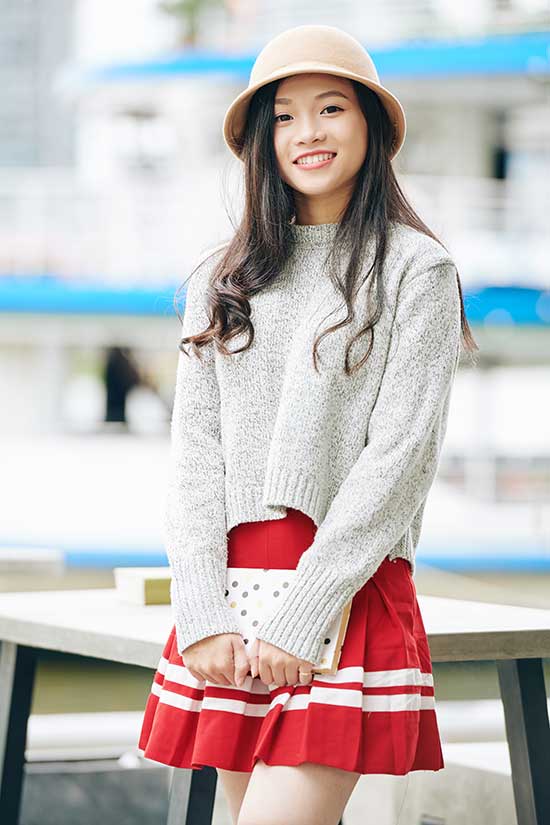 Personal Learning Environment
Edvance360's intuitive homepage features personal learning environment (PLE) to help the student take responsibility for their College LMS experience. Includes:
ePortfolios
Badges
Course Alerts
Group LMS Tools
Facilitate discussions, group projects, and student-led communities. Students can access their:
Grades
Rubrics used
Feedback from teachers
Communication Tools
Edvance360 supports online communication by using:
Secure messaging feature copies parents
Live chat
Live video conferencing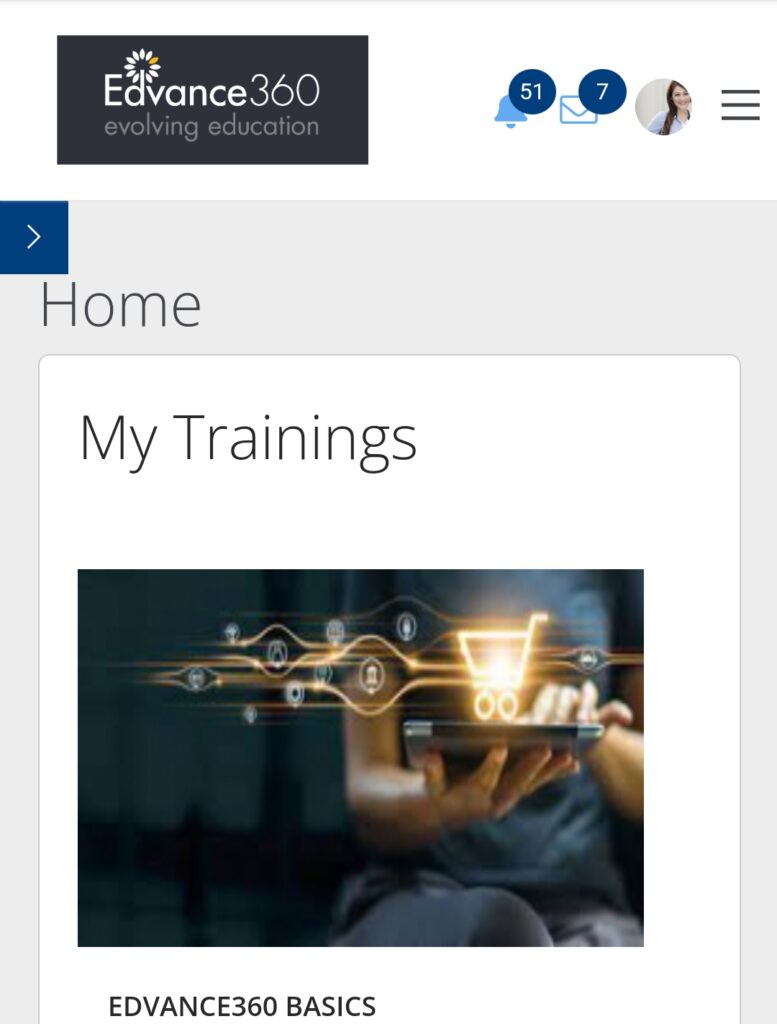 Industry Recognized and Award Winning LMS
Edvance360 is recognized as an industry leader in supporting online learning and training for nearly every industry and need. Accolades include:
Awarded one of the top ten LMS Frontrunners by Software Advice
"Most Affordable LMS" by Capterra
CODiE Award Winner
Empower Faculty.
Interactive LMS lessons / learning paths
Edvance360's College LMS drag-and-drop lesson-building tool enables teachers to build online courses from:
All file types, assessments types
Management tools
Tracking and reporting tools
Collaborative suite of tools
Makes room for a "flipped classroom", divergent paths, and adaptive learning.
Surveys & Assessments
Assess student knowledge and education gained through LMS coursework; set benchmarks and understand comparisons with peers and previous college LMS courses. Contains:
Automatic grading settings
ADA compliance for disabilities
Tools to eliminate cheating
Randomization of questions and answers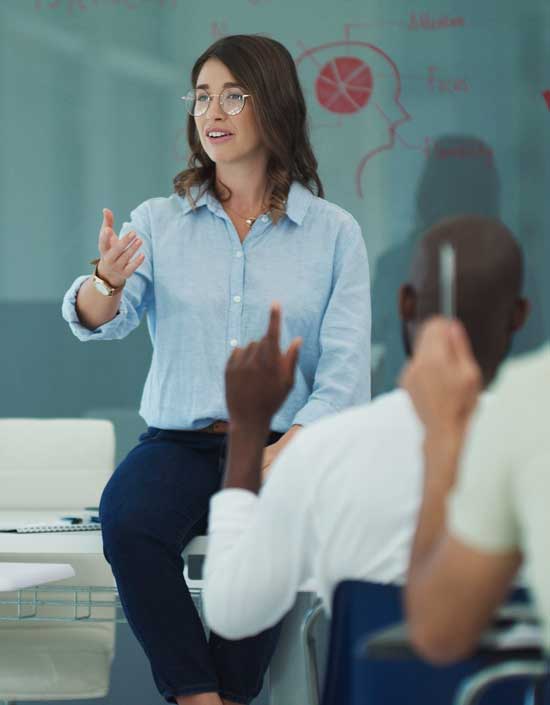 One-Click-Wonder Home Page
Edvance360 College LMS provides educators with one-click access to all the action items they need to run a successful online course; items such as:
Online tests needing review
Early warnings detected
Discussion posts/questions posted by students, announcements/alerts/ reminders, assignments turned in
LMS Communication Tools
Notify and communicate with parents via shared calendar, communities, LMS messaging system, etc. Communicate directly with students via:
Messaging
Shared calendar
Feedback on rubrics/grades
Feedback tools
Live chat
Live video conferencing
Integrated LMS Interactivity Tools
Using LTI (Learning Tools Interoperability) and other one-click college LMS tools:
Teachers can integrate third-party vendors and material
Fully SCORM (Sharable Content Object Reference Model) and Common Cartridge compatible
Learning Outcomes / Competencies
Edvance360 LMS ensures that faculty-created (or admin-created) objectives are aligned to Gradebook assignments; students passing assignments are recorded as meeting the objective/competency. Admin reports also included as a standard college LMS feature.
College LMS Gamification
Track student progress through the LMS via alerts and reports based on criteria chosen by course designer. Students can also share badges via social media and the LMS that they earn as they complete designated criteria.
Early Warning System / Alerts
Edvance360's College LMS allows you to seamlessly notify teachers, administrators, and parents if any issues with a student's progress are detected.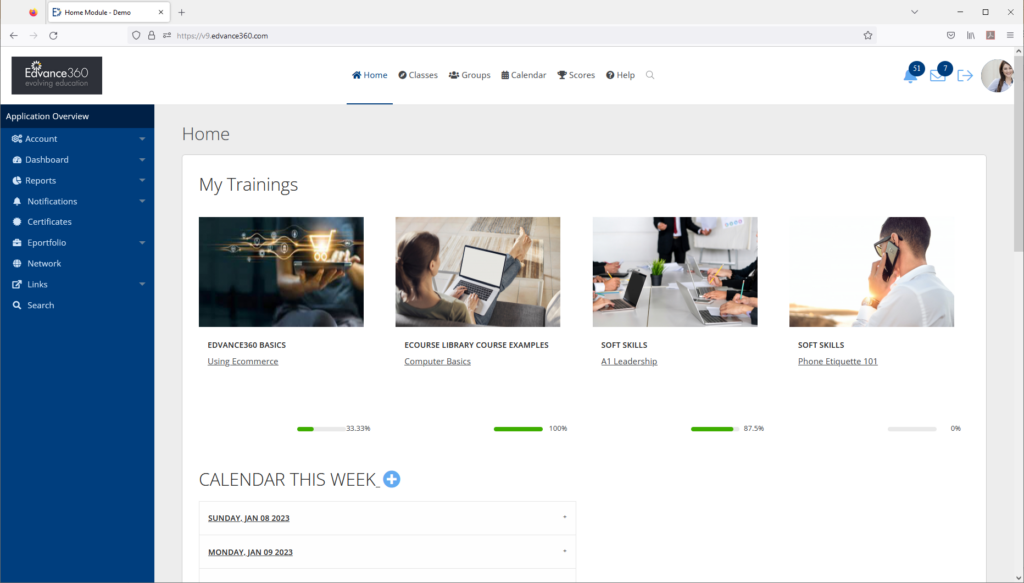 Incorporate advisors & coaches.
Provide advisors and coaches with LMS access to communication, alerts/reminders/announcements, shared calendar with their students' activities, direct access to online course material and resources, student progress and other reports.
Support students.
Offer students a single point of access for all important and relevant info within the LMS via:
Collaborative communities
Resources Sharing
Wikis/document sharing
Live video conferencing
Live chat tool
Discussion Groups
Blogs
Reports
Surveys/assessments
Benedict College increases new student retention via Edvance360 LMS-SN Tools
77%
Academic achievement rate for all freshmen