Edvance360 offers a turn-key catalog management, eCommerce, Registration Portal module, all rolled into our eCommerce Module. It's easy to deploy, send enrollment information to the LMS automatically, and makes administrators' lives easier by automating many of their tasks.
Alternatively, Edvance360 can integrate with your already existing registration or eCommerce portals at no cost.
Users register online at client's website, accept payments for registration, purchasing items. and auto batch the resulting students and courses into Edvance360 in a seamless manner.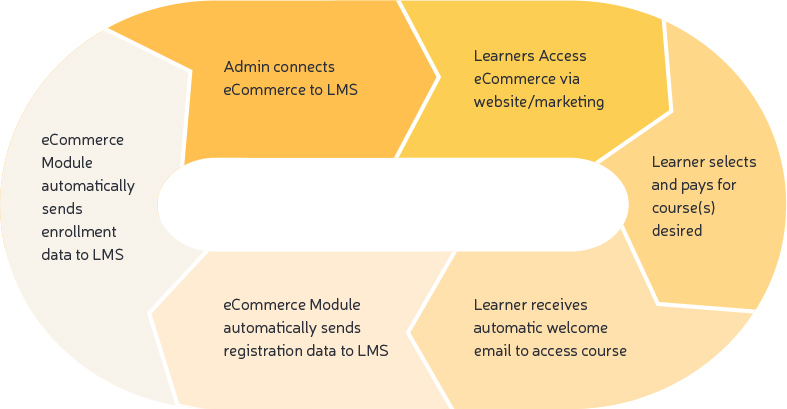 The following are the features included with the registration portal. Any features not listed here are not assumed and require custom programming involving additional development fees.
Administration Area
Products & Categories
Unlimited nested categories

Unlimited products

Unlimited "bundles" of products

Products may be associated with courses; when purchased, user is enrolled in courses

Product CSV Bulk Importer

Product management:
---
Web Page Editor
Allows editing of basic webpages such as contact us, about us, shipping, terms, etc.
---
Orders
---
Export to LMS
Orders can be exported to LMS manually, sending over new enrollments from purchased courses

Orders can also be set to automatically export on a timed basis
---
Coupon Code/Promotional Codes
Ability to create promotional codes

Ability to date restrict promo codes

Set promo code to percent off or dollar amount off
---
Settings
---
Shipping Modules
---
Export
Allows batch export of students & courses to Edvance360. Upon batch, sets registration to "Processed", inserts any new terms, courses, instructors, students and course enrollments. Auto emails each student a login link
---
Custom Menu Editor
Allows batch export of students & courses to Edvance360. Upon batch, sets registration to "Processed", inserts any new terms, courses, instructors, students and course enrollments. Auto emails each student a login link
Administration Area
User Registration Page
---
User Login Page
---
User Forgot Password Page
---
User Shopping Cart Page
---
User Checkout - Billing Info Page User Checkout - Shipping Info Page
---
User Checkout - Payment Page
Includes cart view

Shipping method selection

Tax

Promo code entry

Credit card entry for payment
---
User Checkout - Thank You Page
---
Home Page
---
Product Categories
---
Product List Page with Add To Cart
---
My Account Page
Payment Gateway
Included Payment Gateway
---
All Other Payment Gateways